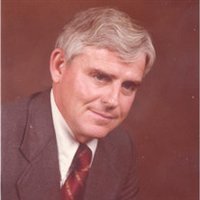 Charles Albert Jones
After battling alzheimers disease for several years, Charles A. Jones, age 89, passed away peacefully at Beacon Place on Tuesday, March 20, 2018.
Charlie was born on Charlotte, NC on March 5th, 1929. After his father's death from pneumonia, Charlie, aged three and his two older brothers, Bill and Richard, entered Oxford orphanage in Oxford, NC in 1932. Although small in stature, Charlie grew large in the activities, sports and classroom academics while growing up at Oxford.
Charlie graduated from John Nichols High School in Oxford, NC as Valedictorian of his class, and entered Duke University on an NROTC scholarship. He graduated from Duke with a degree in Political and Naval Science. After graduating, he served three years in the Navy as an officer during the Korean War.
When discharged from the Navy, Charlie was employed by IBM for thirty years in Marketing and Sales, retiring in 1985. After IBM, he became self employed as a computer broker buying, selling, and leasing computers and computer peripherals in North Carolina, Virginia and Maryland. He married his wife, Micki in March of 1990 and enjoyed working as a greeter in Micki's Hallmark Shop in Friendly Center.
He was a member of First Baptist Church, Gate City Masonic Lodge #694, The Greensboro, Lions Club, Starmount Forest Country Club and the YBM Club.
After retirement, he made hobbies of and enjoyed Genealogy, Bridge and trips to the beach at Litchfield, SC to their condo where Micki and Charlie loved playing golf and entertaining family and friends.
Charlie was preceded in death by his former wife, Mary Winifred, brother Richard, sisters Stella and Lytle. He is survived by his wife of 28 years Micki, brother Bill, sons Curtis, Richard and daughter Wendy Robb(Jeff), and grandchildren Mason and Emmy, three step children, seven step grandchildren, and ten step great grandchildren and his beloved singing Toy Poodle Beau.
A celebration of his life will be held at the Masonic Chapel at Whitestone, 700 S. Holden Rd. Greensboro, NC 27407 on Monday, March 26th at 11:00am conducted by Chaplain Tommy L. Jones, a life long friend. A private inurnment service will be held on Tuesday, March 27th at Guilford Memorial Park.
A reception will be held at Starmount Forest Country Club at 3:00 until 5:00 pm following the funeral service.
The family would like to acknowledge and thank Kathy Hatfield and her very caring staff at The Almost Home Group in Thomasville, NC, The Amedisys Hospice care, Mel Cambareri his faithful and compassionate companion during Charlie's illness and Beacon Place for the wonderful care given to Charlie in his last days.
In lieu of flowers, memorial contributions may be made to The Alzheimers Associations Western NC chapter, 4600 Park Rd. Charlotte, NC, The Masonic Home for Children, 600 College St. Oxford, NC. Or The ASPCA, 3163 Hines Chapel Rd. Greensboro, NC 27405. Online condolences can be made to www.lambethtroxlerfuneralhome.com.