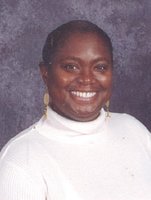 Herschelle Kristynn Watkins
Herschelle K. Watkins, 44 passed away Monday August 13, 2018 at her home in McLeansville, NC. A funeral Service will be held 12:00PM Saturday August 18, 2018 at CityGate Church in Burlington, NC. Visitation will be held one hour prior to the service at the church.
The world wasn't ready for her, but on August 24th 1973, Herschelle Kristynn Watkins bounced onto the scene, ready to take control of the world ...or at least her corner of it. Born to Herschel Watkins, Sr. and Cynthia Hagan, she was a natural-born leader from the start.
Growing up, Herschelle always strived for more, settling for nothing less than the very best. She was a highly intelligent, strong, and hard-working young lady, who blossomed into an amazing and dedicated woman of God. Her personality was infectious; very vibrant and bubbly. You couldn't be in a room with her and not know she was there. In fact, she was probably the one in charge.
Herschelle's ambitious nature, combined with her determination, led her to earn numerous degrees: a Bachelor of Arts from UCLA, another Bachelor of Arts from University of Phoenix, and a Master's of School Administration from UNCG. She began her career as a teacher in California and after moving to North Carolina continued teaching, in addition to being a Curriculum Specialist, at various Guilford County Schools. Herschelle was also employed by the NC Department of Public Instruction. Most recently, she served as a devoted Assistant Principal in the Asheboro City Schools.
Herschelle loved the Lord and was a member of CityGate Church, where she faithfully served with the Guest Services Ministry as well as the Youth. Her Lord and Savior called her home to rest on August 13, 2018 and in that moment, her smile became even brighter. She was finally FREE!
She leaves to cherish her memory her sisters: Angelina, Audrey, Angela, and Lucretia, a brother Ja' juan, a host of adoring nieces, nephews, and cousins, as well as life-long friends who were more like family, especially Kathy, Guy, Jody and Matrice. She is particularly missed by her fur babies, Shakespeare and Mona Lisa.
She was preceded in death by her parents, her brothers: Herschel Watkins Jr and Herschel Watkins Jr II (Lil' Man) and fur babies: Kissable, Loveable, Zsa Zsa and Cotton.