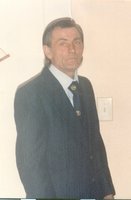 Samuel Oliver "Bud" Shelton
Samuel Oliver "Bud" Shelton, 78, passed away October 5, 2018. Private services will be held at Lakeview Cemetery.
Bud was born April 13, 1940 in Stokes County to the late Mamie Macy Cox and Samuel Peter Shelton. In addition to his parents he is predeceased by his sister, Marie Ingo and a grandson, Samuel Dale Shelton.
Survivors include his daughters, Lesia Zoll and husband Jim, and Sharon Shelton; son, Jeff Shelton; grandchildren, David Ritter, and Steven Stone; a great-grandchild, Jaylyn Ritter; four brothers, three sisters and numerous extended family members.
Bud enjoyed a long career with Rice Toyota in Greensboro, retiring after 25 years of service. He loved to play guitar, listen to country music and work on cars. He had a love for cats, having numerous special pets through the years.
Memorial donations may be made to Hospice and Palliative Care of Greensboro, 2500 Summit Ave., Greensboro, NC 27405.