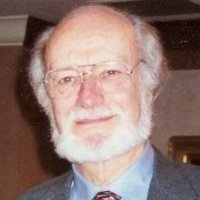 Frederick M. Whitmeyer
Frederick M. Whitmeyer, Sr. died peacefully on November 22, 2018 in Greensboro, North Carolina. He was an engineer, professor, entrepreneur, lifelong learner, lover of nature, and coach and mentor to many.
Frederick was born in Shreveport, Louisiana. He attended the Colorado School of Mines and graduated with an engineering degree from Louisiana State University in Baton Rouge. After graduation and serving in the United States Army, he worked for Humble Oil and Refining, now Exxon Oil. He returned to LSU to earn his Masters of Business Administration.
Frederick taught at the University of Southwestern Louisiana and at Boston College. He also studied in the doctoral program at Harvard Business School.
Frederick moved to Winston-Salem, North Carolina to serve as the Director of Admissions at the Wake Forest Babcock School of Business. From there, he founded and ran data processing, computer software, and management consulting businesses. Many of his ventures were truly ahead of his time as he early on saw the power that computers and software could bring to small and mid-sized businesses.
Frederick rounded out his engineering background and business life by being an active learner and teacher in various spiritual traditions, from teaching Sunday School in Winston-Salem to being a Ritual Elder in the ManKind Project.
Frederick is survived by his son Bud Whitmeyer of Asheville, son Randy Whitmeyer and wife Susan Whitmeyer of Raleigh, and daughter Nancy Whitmeyer-Weathers and husband Sam Whitmeyer-Weathers of Cary. He is also survived by his brother Claudius Whitmeyer. Surviving grandchildren are Maggie LaPlante, Sarah Whitmeyer, Natalie Whitmeyer, Audrey Whitmeyer-Weathers, Thomas Whitmeyer-Weathers, Rachel Whitmeyer, Michael Whitmeyer, and Dillon Rust. Great-grandchildren are Wesley LaPlante and Marshall LaPlante. Frederick is also survived by numerous nieces and nephews.
A celebration of Frederick's life will be held on Friday, December 21 at 3:00 p.m., at 1301 Westminster Drive, Greensboro, NC.
The family requests that memorial contributions be made to the Michael J. Fox Foundation for Parkinson's Research.
Family and friends may view and sign the guestbook at www.LambethTroxlerFuneralHome.com.