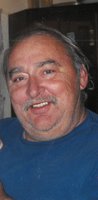 Dennis LaVern Hoard
Dennis LaVern Hoard, 72, died June 12, 2019 at Moses Cone Hospital.
A Memorial Service will be held 2:00 PM Saturday, June 29, 2019 at Memorial Presbyterian Church, 2116 McKnight Mill Road, Greensboro, NC 27405.
Dennis was born June 3, 1947 in Grand Rapids, Minnesota to the late Arlene Hocking Hoard and Harold LaVern Hoard. In addition to his parents, he is predeceased by his sister, Lucille Hoard Shamp.
Those left to cherish his memory include his wife of over 48 years, Linda Calhoun Hoard; sons, David Michael Hoard and wife Rachael, Daniel Harold Hoard and wife Jodi; daughter, Victoria Lynn Hoard; sister, Kathleen Hoard and 4 grand dogs, Shortie, Chicken, Biscuit and Mia and 1 grand cat, Abby.
He proudly served his country in the US Army during the Vietnam War. Following his 12 years of service in the Army, he worked for Decision Data and Lewan Associates until his retirement. In his retirement years, he enjoyed the outdoors, especially bird watching. He also maintained an interest in computers.
Dennis was a loving son, brother, husband and father and will be dearly missed by his family.
In lieu of flowers, the family suggests memorial donations be made to Memorial Presbyterian Church Food Pantry.