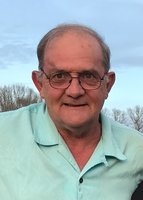 Michael Glenn Barbour
Michael Glenn Barbour, 64, passed away June 30, 2019 at his home.
Funeral services celebrating Mike's life will be 11:00 AM Friday, July 5, 2019 at Hickory Grove United Methodist Church officiated by Pastor Leon Morrow. Burial will take place at Lakeview Memorial Park Cemetery.
Mike was born August 6, 1954 in Johnston County, NC to the late Margaret Gordon Barbour and Junious Barbour. In addition to his parents, he is preceded in death by his brothers, Benny Wayne Barbour and Donald J. Barbour.
Mike proudly served his country in the US Army. He enjoyed a long career as a machine specialist, working for several companies in the Greensboro area. He was a member of Hickory Grove UMC, where he volunteered for the "Pumpkin Patch" and other areas where needed. Mike loved building and flying remote-controlled airplanes. He also had a special talent for designing Mandalas (barn quilts) on wood and he had an interest in astrology.
Survivors include his wife of 22 years, Sheila Dodson Barbour of the home; step-daughter, Heather Harding and husband Doug; step-son, Wesley Smith and wife Jennifer; grandchildren, Kaylee, Mason, and Eli; sisters, Bonnie Powers and husband Morris and Lisa Swain and husband Michael; brother, Billy Ray Barbour and several extended family members.
The family will receive friends beginning at 10:00 AM Friday at the church and also at a reception following the service.
Memorial donations may be made to Hickory Grove UMC or to a charity of your choice.