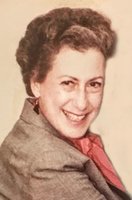 Roselyn "Roz" Kahn Josephsohn
Roselyn "Roz" Kahn Josephsohn, 97, born on February 14, 1922 in Birmingham, Alabama, passed away on Tuesday, October 15, 2019 in Greensboro, NC. She is predeceased by her mother, Stella Spanier Kahn, her father, Leon Kahn, grandfather Joe Spanier, and aunt Bertha Satterfield, all of Birmingham, AL. The surviving members of her family are son, David A. Josephsohn (Marlene Myers), daughter, Lynda Josephsohn Forrest (Tom Bridgers), son, Paul E. Josephsohn; and grandchildren Lauren Josephsohn Diaz (John) and Daniel Josephsohn; great grandchildren Alexa and Ryan Diaz, and cousins in Birmingham, AL and in Israel.
Roselyn was an extraordinary mother, friend, and wife, beautiful within and without; she loved to ride horses as a child, and always enjoyed a variety of outdoor activities. As a youngster in Birmingham, she studied ballet, which led to a lifetime interest in music and dancing - especially with her beloved husband, Julian.
She had a green thumb, and we used to say she could put a stick in the dirt and it would grow. Roselyn also loved animals. She would rescue an injured bird and take care of it until it could fly; and then release it back to nature. Her best four-legged friend in her latter years was devoted dachshund, Kinder, who was her constant companion after Julian passed away.
Roselyn was extremely creative and resourceful. She was an avid reader, party planner and host, artist, and gourmet cook. She was an amazing Mother who was a "creative, outside of the box thinker."
Roselyn loved the challenge of crossword puzzles, and amazed her family at how easily she was able to figure out the words needed to solve them.
She was the first volunteer at the Roy Culler Senior Center, and also was a "Gray Lady" volunteer for many years at High Point Regional Hospital.
Roselyn and Julian loved to travel, took many cruises, and enjoyed forging new friendships with people from all over the world.
In lieu of flowers, please make a donation in her memory to any charitable organization of your choice.
The family wishes to express their deep appreciation to the staff at Countryside Manor Retirement Home in Stokesdale for the excellent, attentive care that Roz received while she was there.
Friends and family of Roz are invited to a private memorial service in her honor to be held at a later date. Please contact Lambeth-Troxler at 336-273-3401 for the date and time.