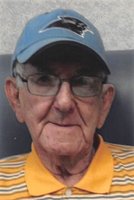 Bobby Forrest Hicks
Bobby F. Hicks, 87, of Reidsville, went home to be with the Lord on Saturday, November 23, 2019. Bobby was born April 21, 1932 in Hillsborough.
He served in the United States Army from 1952-1954. He was a devoted husband for 67 years and caring father to five children. He dedicated forty years of his life working at Cone Mills. He loved being outdoors whether it was working in the yard, fishing or golfing. He was a lifelong UNC Basketball fan.
He was preceded in death by his son, Robert Hicks; and daughter, Peggy Anderson. He is survived by his wife, Peggy Hicks; two sons, Cleve Hicks and wife Therese and Steven Hicks; daughter, Pennie Sampson; 14 grandchildren; 38 great grandchildren; 10 great great grandchildren; as well as a host of friends and family.
Funeral services will be held on Tuesday, November 26, 2019, 12:00 pm, at Lambeth-Troxler Funeral Home. The family will visit from 11:00am-12:00pm prior to the service. Interment will follow service at Lakeview Memorial Park.