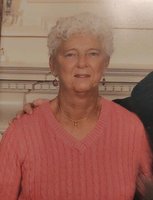 Frances Robertson Dillon
Frances Robertson Dillon, 77, went home to be with her Lord June 23, 2020.
A "walk through" time of visiting with her family and friends will be held from 10:00AM until 11:00AM Friday morning June 26, 2020 at the Pierce-Jefferson Funeral Home in Kernersville. A private family burial will be in Gardens of Memory.
A lifelong resident of Forsyth County, Frances was the daughter of the late Margaret Jane Kimel and Clinton Eller Robertson. In addition to her parents, she also was preceded in death by her brother Stan Robertson.
She had worked for Hennis Trucking for a number of years. She was longtime member of Pine Grove United Methodist Church.
Survivors include her loving husband of fifty-seven years, Clarence "Whistle" Dillon of the home; daughter, Sherry Dillon Pooley and Kim of Walnut Cove; grandson, Cory Pooley and Karly of Apex; sister, Wilma Jean Coley and Richard of Kernersville; and numerous extended family and friends.
Memorial contributions may be made to Pine Grove United Methodist Church, 1018 Piney Grove Road, Kernersville, NC 27284