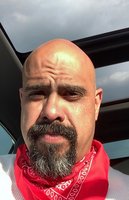 Joseph Jarvis, Jr.
Joseph Jarvis, Jr., 47, passed away June 22, 2020.
A time of "walk through" visiting with family and friends will be held Thursday evening from 6:00PM until 7:00PM at the Pierce-Jefferson Funeral & Cremation Services Lambeth Chapel.
"Joe" was the son of Margarita Medina and Joseph Samuel Jarvis, Sr. He was a master welder and pipe fitter, a lover of music, and an avid seeker of knowledge. Joe spent plenty of time trying to better himself. A loving friend, father, son and a person who simply loved life to the fullest. His larger than life presence was sure to fill every room he entered. He will be truly missed by all who knew him.
Survivors include his best friend and the mother of his children, Nicole Ulrich of the home; daughters, Bianca and Gianna of the home; mother, Margarita Medina of Texas; father, Joseph Jarvis, Sr. and Esmeralda of Texas; sisters, Tanya Jarvis, and Saskia Jarvis; mother and father inlaw, Kenton and Linda Ulrich of Greensboro, NC; and numerous extended family siblings, uncles, aunts, and dear friends.
Friends and family may sign the guestbook at www.Pierce-JeffersonFuneralService.com