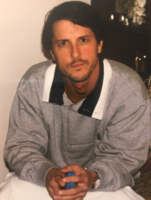 Michael Scott Hunter
Michael Scott Hunter, 60, passed away January 2, 2021.
A native of Norfolk, Virginia, Scott was the son of the late Beverly Ann Arnder Hunter and Carlyle Edward Hunter, Jr.
Survivors include his daughter, Hannah Michelle Hunter of the home; grandson, Michael Antonio Estavia, II of the home; son-in-law, Michael Antonio Estavia of the home; brother, Carlyle Edward Hunter, III and Janet of Laurinburg, NC; niece, Maggie Hunter McCaskill and Adam of Laurinburg, NC; nephew, Chris Hunter and Jennifer of Laurinburg, NC; and numerous extended family members and friends.
Scott was a carpenter by trade, and lived life to the fullest. He loved to read, and was extremely intelligent. His family was important to him and will be missed by all who knew and loved him. His title as "Grandpa" was his pleasure and delight as he adored his grandson.
His famous departing line was, "Iloveyoudamostalwaysandforever"!