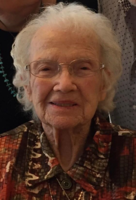 Kathleen Marie Whisenant Dalrymple
Kathleen Marie Whisenant Dalrymple, 101, went home to be with her Lord on January 20, 2021.
She will be inurned at Mountlawn Memorial Gardens in North Wilkesboro at a later date.
A native of Henry County, Virginia, Kathleen was the daughter of the late Hallie Merriman Whisenant and Robert Davidson Whisenant. In addition to her parents, she also was preceded in death by her husband, Neill McLean Dalrymple, Sr.
Survivors include her sons, Neill Dalrymple, Jr. (Joan) of Holly Springs, NC, and Mark Dalrymple (Sara) of Greensboro; grandchildren Neill Plant (Rebecca), Susan Britt, Skye Russell (Josh), Carol Smith (Brian), and Kariann Dalrymple; great-grandchildren Rachael Plant, Jack, Sam and Charlie Britt, Grady Smith, and Karis and Cole Russell; sisters, Lucille Reich of Winston-Salem, and JoAnn Long of Walkertown; and numerous extended family and friends.
Memorial contributions may be made in her memory to The Gary Senise Foundation.
Friends and family may sign, and view the guestbook at www.Pierce-JeffersonFuneralService.com