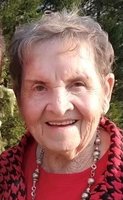 Patsy "Pat" Arrington McLamb
Pat Arrington McLamb, 77, of Browns Summit, NC, passed away on Tuesday, February 2, 2021 at home surrounded by her children and "More" love than their hearts could hold.
A " walk through" Memorial Service will be held on Saturday, February 6th from 1:00 – 2:00 at the Pierce-Jefferson Funeral Services Lambeth Chapel in Greensboro, NC.
Pat was born on January 31, 1944, the daughter of the late Raleigh Gaston Arrington and Nellie Mae Arrington of Julian, NC where she was one of 5 girls who worked very hard on the family's tobacco farm. In addition to her husband, she was also preceded in death by two sisters, Bonnie Clark and Lynda Eckler.
Pat leaves behind a devoted family who will miss her deeply, but we have comfort in knowing she joyously entered Heaven and joins the absolute love of her life, John David McLamb, Sr. who preceded her in death in June of 2019. She enjoyed time at their cabin in Virginia as well as their annual family vacations to Holden Beach.
Pat was the best mom and grandma that we could ever ask for. A kind and gentle soul to all who had the privilege of knowing her. After our father's passing in 2019, we had the extreme pleasure of caring for and loving her until God decided to take her "home". We will forever be grateful for this especially cherished time we shared with her. Left behind to cherish her memory are her son, John David McLamb Jr. and wife Nikki, daughter Angela McLamb Rosson and husband Jeff, son Barry Joe McLamb and wife Kristin. The proud Grandma to 8 grandchildren, she loved nothing more than to see and spend time with her grandchildren. All of whom were able to share and celebrate her last days on this earth. She loved each of them "More" than we could ever comprehend. Joshua David McLamb, Jacob Daniel McLamb and wife Nicole, Allyson Rae McLamb, Seth Garrett Rosson, Leah Joy Rosson, Emma Grace McLamb, Abby Hope McLamb and Jase Michael McLamb. Pat was the sole survivor of quadruplets, and in addition to having an older sister, had a set of triplet sisters as well. Two of which are left to treasure her memory, Jeanie Wyrick, husband Bobby, and Nancy Farlow. She loved sharing the story of her unusual multiple birth siblings. A very special friend, her best friend, Sue Snead, also had a huge impact on her life. They shared many special memories and Pat absolutely loved spending time with Sue. A recent highlight was last year's birthday where they attended a show at Barn Dinner Theatre to see their favorite, an Elvis impersonator.
The family would like to share a special thank you to Hospice of Greensboro, who provided us with much needed love and support in our last days with her and also the Well-Springs Memory Care center on Henry St. in Greensboro; where she absolutely loved to participate in the activities and fellowship with the absolute best and caring staff imaginable. We cannot thank you enough nor express how very much you've meant to us.
In lieu of flowers, please consider supporting either of these outstanding organizations. They have truly been a blessing to our family.
Friends and family may sign, and view the guestbook at www.Pierce-JeffersonFuneralService.com