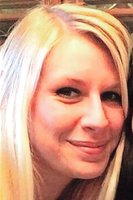 Christina Eileen Byrd
Christina Eileen DeCesare Byrd, 28, passed away suddenly March 20, 2021.
A Celebration of her life will be held 1:00PM Saturday March 27, 2021 at the Pierce-Jefferson Funeral Services Kernersville Chapel.
A native of Bay Shore, New York, Christina was the daughter of the late Arthur C. DeCesare and Jennifer L. Steigerwald who survives. In addition to her father, she also was preceded in death by her paternal grandparents, Joseph and Rita DeCesare; maternal grandmother, Eileen P. Rhodes; and her maternal great-grandmother, Eileen P. Sanwald.
Survivors include her mother, Jennifer Steigerwald; daughter, Sophia Byrd; sister, Julia Steigerwald; maternal step-grandfather, Charles Rhodes, maternal grandfather, Laurence Jacques and his wife Carole; and a host of aunts, uncles and cousins, and extended family and friends.