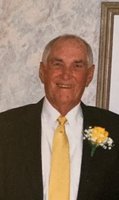 Fred John Eisel, Jr.
Fred John Eisel Jr., 81, of Kernersville, N.C., formerly of Altoona, was surrounded by family as he passed away peacefully at his home Monday, March 22, 2021, after a long and courageous battle with cancer. He was born in Altoona, son of the late Fred Sr. and Agnes (Leipold) Eisel.
He was a 1957 graduate of Altoona High School and spent his entire career working for the railroad beginning in Sept. 1957. During his 43 years, he worked for the PRR, Penn Central, Conrail and Norfolk Southern as a stenographer/supply specialist starting at the Juniata shops and finishing his career at the Hollidaysburg Car Shops.
In 1961, shortly after he began working for the railroad, he was called to active duty with the U.S. Air Force and spent a year stationed in Germany.
In 2000, he and his wife retired to Clermont, Fla., where they enjoyed over 19 years of traveling, bowling, golfing and staying active with friends. He enjoyed watching his beloved Atlanta Braves as much as he could and continued with his life-long hobby of stamp collecting. He was a long-time member of the American Philatelic Society and the Bavarian Aid Society in Altoona.
In addition to his parents, Fred was preceded in death by his daughter, Christine (Eisel) Stoltz (Scott) of Harrisburg.
He is survived by his wife of 56 years, Elizabeth Jane (Lingenfelter) Eisel; a brother, Wayne Eisel (Marjorie) of Altoona; and a sister, Patricia Eisel of Hollidaysburg; two sons, Timothy Eisel (Malissa) of Wake Forest, N.C. and Fred Eisel III (Tracie) of Oak Ridge, N.C.; three granddaughters: Kathryn Eisel, Hannah Stoltz and Summer Eisel; two grandsons, Samuel Eisel (Lauren) and Joseph Eisel.
Online condolences may be offered to the family at www.pierce-jeffersonfuneralservice.com