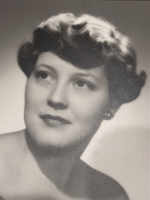 Elinor Ann Wise Chermela
Elinor Ann Wise Chermela, 87, of Greensboro, NC passed away peacefully Wednesday, March 24, 2021.
A native of Loysville, PA, Elinor was the wife of the late Eugene Chermela and the daughter of the late Charles Wise and Anne Wilson Kingsborough. She often mentioned the happy childhood she had and stories of growing up in the country with her sister Susie and brother Sam. She moved to the big city of Philadelphia to attend Jefferson College of Nursing. As a Registered Nurse she worked in Intravenous Therapy for most of her career. She had a wonderful flair for decorating the home with her signature color being pink. Desserts were always her favorite, especially chocolate. Her grandchildren remember fondly of the Milky Ways she placed in the cricket box for them to discover. Elinor will be remembered as a loving mother, wife, sister and friend.
Survivors include her two daughters, Adrienne S. Gavin of Lititz, PA, and Carol Moriarty and husband, Tom of Kernersville, NC; son, Matthew Chermela of Tampa, FL; six grandchildren, Kathleen, Chelsea, Erin, Elaina, Janel, and Thomas; two great grandchildren, Evie, and James; a sister, Suzanne Smithers and husband, Wayne of Harrisburg, PA; and a sister in-law, Margaret Kingsborough.
In addition to her husband and parents, Elinor was preceded in death by her son, Daniel Chermela; and brother, Samuel Kingsborough.
A private family memorial service will be held on Saturday, April 17, 2021. Flowers can be sent to Carol Moriarty, 1310 Driftwood Acres Drive, Kernersville, NC 27284.
Friends and family may view, and sign the guestbook at www.Pierce-JeffersonFuneralService.com
In lieu of flowers, memorial contributions may be made to Hospice of the Piedmont, 1801 Westchester Drive, High Point, NC 27262.