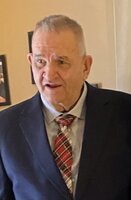 Julian Lee Lawson
Mr. Julian Lee Lawson, 79, of Madison, NC passed away peacefully Monday, September 6, 2021.
A native of Forsyth County, NC, Lee was the husband of Ann Bennett Stultz Lawson and the son of the late Trula Lou Lawson.
Funeral Services celebrating his life will be held at 10:00AM Friday, September 10, 2021 at the Pierce-Jefferson Funeral Services Kernersville Chapel. Entombment will follow at the Mausoleum of Gardens of Memory Walkertown.
Friends and family may view, and sign the guestbook at www.Pierce-JeffersonFuneralService.com