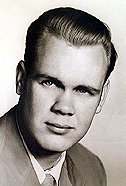 Obituary of Louis Earl Coble
Louis Earl Coble, 83, died November 25, 2018 in Maryland.
Funeral services celebrating his life will be 2:00PM Sunday December 2, 2018 at Lambeth-Troxler Funeral Home Chapel with Pastor Glenn Garver officiating. Burial will immediately follow at Guilford Memorial Park Cemetery.
Louis was born April 4, 1935 in Greensboro, NC to the late Mary Era Nicks and Date Earl Coble. He is also preceded in death by his sisters, Marian Coble Rudisill and Evelyn Coble.
Survivors include his wife of over 55 years, Joy Willett Coble; daughter Wendy Coble and a son, Martin Coble.
He attended Fletcher Academy in Hendersonville, NC where he met the love of his life, Joy. Louis worked as a mechanic for several different companies in Greensboro and also worked as a truck driver and taxi driver during his career. He was proud of his part-time career of over 40 years with the Greensboro News and Record, receiving many awards for his loyalty. He enjoyed anything to do with planes, trains and automobiles. Since his teenage years, Louis has been a devoted and active member of Greensboro Seventh-day Adventist Church.
The family will visit with friends from 6:00PM to 8:00PM Saturday December 1, 2018 at Lambeth-Troxler Funeral Home.
If desired, in lieu of flowers, gifts in his name to the Alzheimers Association can be made.
Family and friends may view and sign the guestbook at www.LambethTroxlerFuneralHome.com