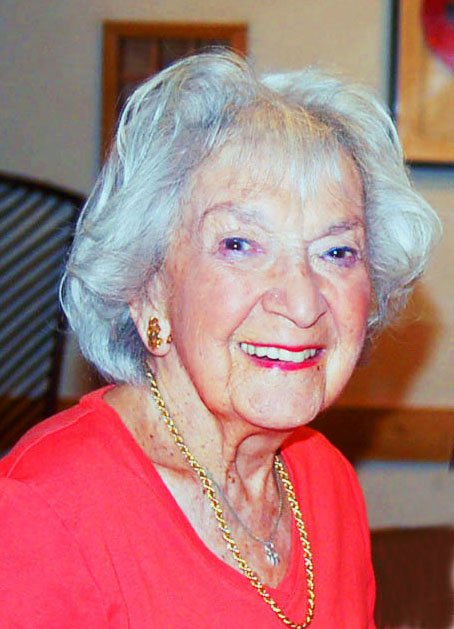 Obituary of Gertrude Tow
Born on March 16, 1916, Gertrude Tow, Mom, passed away at the amazing age of 102, on Wed. afternoon, January 30, 2019, at the Carriage House. A lovely hospice nurse, Julie, and, Monica, Mom's hospice social worker, were with her when she took her last breath.
At the age of 96, Mom had her first TIA and it was determined she could no longer drive. Her independent nature was so strong, a wheel lock had to be installed to keep Mom from driving to her favorite restaurant, a Pan game or shopping! Of course, Mom now required part-time care. Because she wanted to remain fiercely independent, at the time, it became a challenging responsibility! A demanding position, my sister, Sheilah, and her husband, Renee, took care of Mom for 4 years. They did an attentive, conscientious and thoughtful job.
In November 2016, Harvey brought his Mom, from CA, to live in Greensboro. While we realize it was not her wish to leave her Studio City apartment, the place she called "home," Kaiser Hospital advised us Mom needed to have 24/7 care. The decision of how to care for Mom at the age of 100 also was not an easy one. Still, Harvey and his wife, Sherry, knew she needed to be near them so they could be "hands on" with her care. Moving anyone at the age of 100 is an ambitious task. Thankfully, there was an "assisted living" residence, the Carriage House near Mom's son, Harvey and daughter-in-law, Sherry, relocated her. Of course, every time Mom saw Harvey, she broke into the biggest smile! Although keeping "on top" of the Carriage House was necessary, the staff was always gentle and kind and truly grew to love Mom. Her feisty, determined and engaging personality warmed the hearts and minds of everyone who cared for her. Mom had a smile that one can never forget. With a twinkle in her eye, she's won you over with charm and humor!
Previous to needing any kind of care, Mom lived her life on her terms! She was unusually independent for a woman born in 1916. In 1938, Mom married George Tow. She was the love of his life! Because of her jet-black hair and olive complexion, George nicknamed her Gypsy!
While raising their 2 children, Harvey and Diane, Mom did the bookkeeping for George's wholesale meats business. Sadly, George passed away in 1961 leaving Mom a widow at the age of 45. With Diane still in high school, Mom persevered. She sold the business and went to work for Adohr Farms and then Gelson's Markets, an upscale, privately owned, grocery store chain. One of the most intelligent women I have ever known, Mom excelled in grammar, loved to go to Las Vegas and was experienced at playing the card games, Pan and Mahjon! She was proficient at crossword puzzles, a voracious reader and loved eating out! Most of all, Mom was one of the funniest women anyone could have ever known. Her one liners would leave you laughing and then whatever might have been bothering you that day evaporated from thought. When asked different questions, she would have several "pat" replies. "Mom, how do you feel?" Mom's reply, "With my fingers, or, everyone I can, or, I'm in bed, sick, with the doctor." Another example was, "Why don't you be a good girl?" Mom would answer, "Good girls don't have fun!" Mom was always leaving daughter-in-law, Sherry's girlfriend, Priscilla, in stitches. In fact, Mom and Priscilla loved to gamble and Mom longed to return to Las Vegas. She used to tell, Priscilla, "I'll drive the two of us to Las Vegas. It couldn't be that far from Greensboro! Yes, Mom was a pistol.
Mom loved going out with the family and/or friends to dinner. There wasn't a restaurant she didn't want to know! During her time in Greensboro, Mom enjoyed long distance telephone conversations with her daughter, Diane, and on her 101st birthday Sherry and Harvey planned a surprise birthday party and a visit from Diane!
On Mom's 102nd birthday, Granddaughter, Faun, arranged for to have a photo session taken at the Bi-Centennial Park. It was a sentimental photo shoot and featured three generations of the Tow family. Mom handled the session like a natural and enjoyed being out at one of the most beautiful parks in Greensboro and the "center of attention!"
Once, when asked to name her favorite decade, she responded, "every decade!" Mom's attitude was to never let anything bother her and that may be why she outlived her siblings and all of her childhood and adult friends. In Mom's last 2 yrs. on earth, she evolved into a very gentle, thoughtful woman. During Mom's time at the Carriage House, she never complained and always told us how kind the staff was to her. Most of the time, no matter how poorly Mom felt, she always told us she was, "great!" Her family, our friends and the new ones made at the Carriage House, especially, Barbara & Bob, whom she referred to as the "married couple," as well as the staff, will miss her a great deal.
Mom was a wonderful mother-in-law and very supportive of her son's marriage to Sherry. She always used to say, "Harvey's decision to marry Sherry was the best one he ever made!
Mom leaves behind her son, Harvey, daughter, Diane, granddaughter, Faun, daughter-in-law, Sherry, son-in-law, Steve, nephews, Harvey & Alan, niece, Carole, niece-in-law, Jerri, grandnieces Sari & Nancy, Shauna & Katie and grandnephew, Roy. Mom's body will be shipped back to CA for burial at the Hillside Cemetery, not far from her beloved husband, George.
Mom, may you rest in peace, knowing you lived life on your terms, leaving behind a memory of those who laughed with you and loved you.