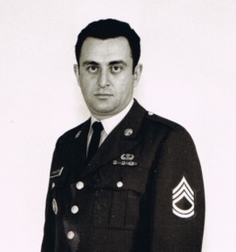 Obituary of Charles William "Chuck" Bonnstetter
Sgt. First Class Retired Charles William "Chuck" Bonnstetter, 82, passed away at his residence on Wednesday, February 13, 2019.
Funeral services will be held in the Chapel of Lambeth-Troxler Funeral Service on Sunday, February 17, 2019 at 2:00 p.m. with Rev. Bruce Crews officiating. Military honors and burial will follow at Lakeview Memorial Park. The family will receive friends at Lambeth-Troxler Funeral Service on Saturday, February 16, 2019 from 4:00 p.m. to 6:00 p.m.
Sgt. First Class "Chuck" Bonnstetter served proudly for 20 years in the US Army, 82nd Airborne with two tours in Germany and one tour in Korea, serving his last 10 years in White House Communications. He later retired from the City of Greensboro Traffic Engineering Department with 20 years of service.
A native of West Bend, Iowa, Chuck was the husband of the late Marie Parrish Bonnstetter and the son of Ted and Irene Bonnstetter, both deceased.
Chuck is survived by his daughters, Sue Heath and Jeff of Greensboro and Teresa Bonnstetter and Marshand of Greensboro; son, Walter Allen and Dianne of Greensboro; grandchildren, Brian Silva and Tami, Heather Callaham and Jack, and River Hager; great grandson, Liam Callaham; sisters, Betty Voss and Gene of Minnesota and Edna Esser of Virginia; brother, Paul Bonnstetter and Linda of Colorado; and numerous nieces and nephews.
In addition to his wife and parents, Chuck was preceded in death by his sister, Lee Farrell and brother, Gene Bonnstetter.
Memorial contributions may be made to St. Jude Children's Hospital at www.stjude.org or to Shriners Burns Hospital at www.shrinershospitalsforchildren.org.
The family would like thank Hospice & Palliative Care of Greensboro and Whitestone Rehabilitation Center for the exceptional care and kindness they showed to our father, and a very special thank you to Adeleh N. Kooshki, ANP for her truly compassionate and loving care.
Family and friends may view and sign the guestbook at www.lambethtroxlerfuneralhome.com
To send flowers to the family of Charles Bonnstetter, please visit Tribute Store