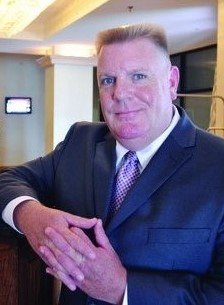 Obituary of Kevin Arthur Archer
Kevin Arthur Archer, (49), of Greensboro, North Carolina, passed away on March 7, 2019 in Cocoa Beach, Florida.
The wake is 5pm-8pm on Friday, March 29th at Lambeth-Troxler Funeral Home, located at 300 West Wendover Ave. in Greensboro, North Carolina.
Funeral mass is 1pm on Saturday, March 30th at Our Lady of Grace Catholic Church located at 2203 West Market Street in Greensboro, North Carolina. Fr. Paul Buchanan, of OLG, will be officiating. Burial service will follow at Forest Lawn Cemetery located at 3901 Forest Lawn Drive in Greensboro, North Carolina.
Born in West Islip, New York on January 13, 1970, Kevin was the youngest son of Arthur William Archer and Gertrude Regan Archer. He attended two years of high school in New Jersey and then graduated from Southeast Guilford High School in Greensboro, North Carolina. He graduated college from East Carolina University in Greenville, North Carolina with a Bachelor's Degree in Hospitality Management.
Kevin worked as a General Manager for Innisfree Hotels at the time of his passing. He was well known for his dynamic personality and strong leadership skills in the hospitality industry. He was admired and respected by many former colleagues and associates. Kevin was awarded the prestigious Hotel of the Year award (2008) by Marriott International at the Courtyard Marriott in High Point, North Carolina.
Kevin was on the Board of Directors (2005-2007) of the Guildford County Hotel Association. He served as Chairman of the Board (2011-2013) of the High Point Convention & Visitor Bureau. He also served on the Board of various other civic organizations such as, the Big Brothers & Big Sisters of High Point, Jamestown Youth League and Miracle League of High Point. Kevin will be remembered for his outgoing personality, sense of humor, kind heart, generous spirit and thoughtfulness.
Kevin is preceded in death by his father, mother and brother, James Michael Archer.
Kevin is survived by sons, Shane Archer, Ryan Archer and their mother, Erica Archer, all three of Greensboro, North Carolina; brother, Brian Archer (Cindy) of Cave Creek, Arizona; sister, Susan Archer of Franklin, Tennessee; twin sister, Eileen Archer Kelly of Novi, Michigan; nieces, Ashley Archer of Orlando, Florida, Caitlin Salata (Chris) of Lake Clarke Shores, Florida, Jacqueline, Alyssa & Danielle Ursprung, all three of Franklin, Tennessee; nephews, Sean & Timothy Archer of Cave Creek, Arizona, Trevor Ursprung of Franklin, Tennessee and Brendan & Ryan Kelly of Novi, Michigan.
The Archer family wishes to extend our sincere thanks to the ICU Nurses and Doctors at Cape Canaveral Hospital for providing excellent care to our beloved, Kevin.