Has a Death Occurred? We Are Available 24/7
(336) 904-1053​
Live Chat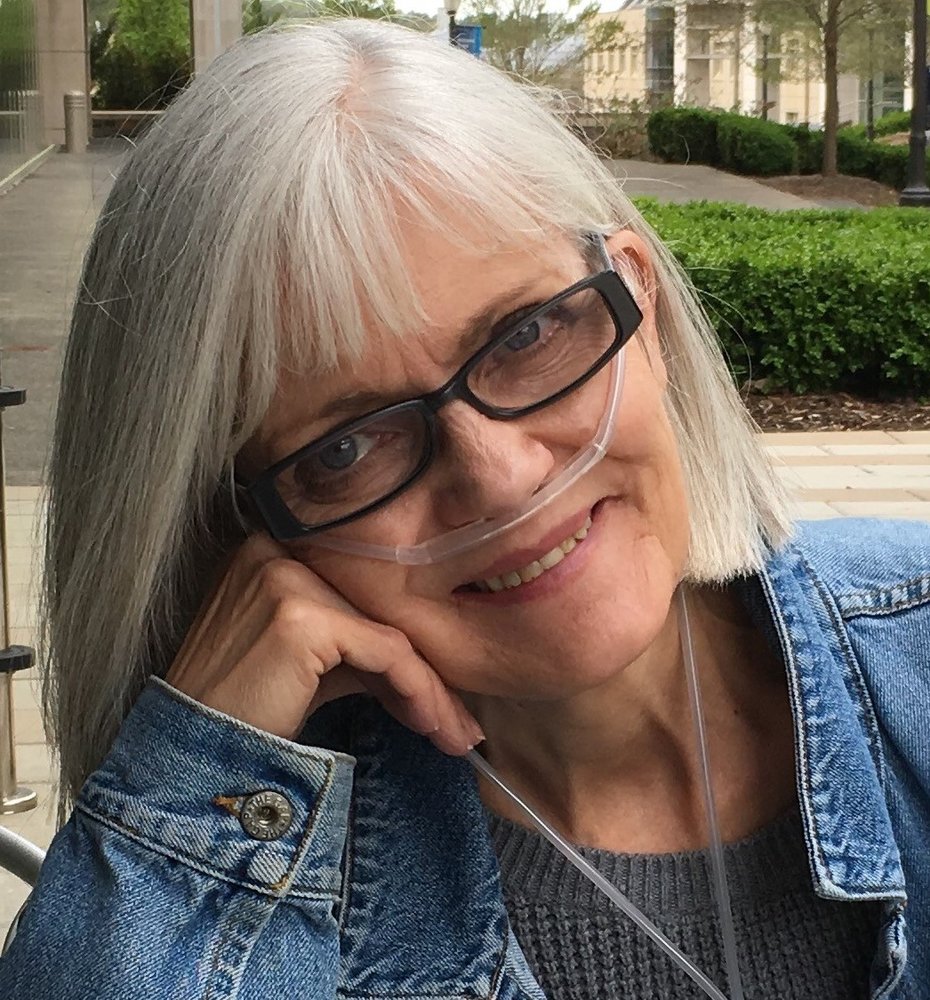 Obituary of Kate Fischer
Kate Fischer, 66, passed away on Thursday, May 16, 2019 following complications from a double lung transplant she received in June of 2017. Despite hitting every detour she could on her two-year road to recovery, Kate's determination, grace, and humor carried her. Kate's many dedicated caregivers (and there were MANY, both in person and online through her active Facebook page) pushed her to keep fighting, and her love of her family and friends near and far motivated her through some of her toughest day.
But that's just the end of the chapter. If you knew Kate, you know she loved to read (and write and sew and knit and draw and dance and strum her guitar and make crafting plans and go for walks and sip a glass of wine and enjoy a plate of baked ziti...), so let's start at the beginning
Once upon a time, in a land known as Michigan, Kathleen Karlek was born. The oldest of six children, Kate as she later came to be known (but not before going by "Kathy" first), enjoyed a childhood of comically short bangs and adorably matched handmade sister outfits, both styled by her mother Rose and adored by her father Tom. (Younger siblings Melissa and Jason were spared the hairdos that Kate, Bev, and Karen wore, and brother Mark narrowly missed out on the matching dresses by being born a brother instead of a sister.)
On one prophetic day, young Kate was visiting family friends when she was serenaded by a chorus of "If I Knew You Were Coming, I'd've Baked a Cake" being sung tauntingly by a young Greg Fischer in the tree next door. Though they didn't start dating until after high school, THAT FISCHER BOY clearly made an impression.
Kate and Greg married in September of 1973, right in the middle of the tiny window between their two birthdays, he at age 21, and her at age 20. They welcomed daughter Meagan in December of 1977, and in 1981 the family left Michigan for North Carolina. Following a few months in Reidsville, the Fischers relocated to Greensboro, where they settled into a life of friends who became family. Kate and Greg welcomed son Dominic in February 1987, completing the Fischer Four.
It was in North Carolina that Kate continued her love of running (including the occasional 10K following a marathon in Michigan), discovered her passion for tennis (not just for the cute skirts), and added a love for clogging (in this case the costumes probably helped). She and Greg hosted countless game nights over the decades, enjoying the company of neighbors and friends, pizza and beer, and welcoming family to the table whenever they made the trip to North Carolina. Later, they would host their children's friends, making a welcome home for anyone away from their own, offering an example of what a family can be with the right amount of love and a whole lot of laughter.
Kate officially became a grandmother when Meagan and husband Joe added daughter Charlie to the family in 2010, but Kate had already adopted the honorary title years earlier with her "borrowed babies" Taylor and Jordyn. Her love for these girls was unparalleled, and it didn't end there. Over the years, Kate tended to more children than this writer can name, each one a part of her heart.
Now on to that last chapter...
Following years of celebrating being "Still too healthy for a transplant!" and months of pulmonary rehab to keep her body as strong as possible, on May 9, 2017, Kate was officially listed as a candidate for lung transplant. Her diagnosis of Idiopathic Pulmonary Fibrosis boiled down to this: Her lungs were turning to scar tissue without any specific reason. There were additional hurdles to clear for Kate, but THE CALL came on June 16, and by the morning of June 17, 2017, Kate was given new life and new lungs through the gift of an unnamed donor and their family.
With her original diagnosis, we would have had less than a year left with Kate, and while the 23 months that followed her transplant were not what any of us had envisioned, it was a gift of nearly two more years with our beloved wife, cherished mother, adored grandmother, and devoted friend.
In her last days at Duke University Hospital, while she slept peacefully, countless nurses, doctors, therapists, administrators, and of course, family and friends came to say goodbye to Kate. Their words all echoed how hard she had fought her battle, how kind she had been to everyone, how she had made so many of them smile and laugh, and how very much she would be missed by those who had come to love her in the short time they'd known her.
Kate was--and is--loved beyond words by all. If you had the honor of meeting her, you can count yourself among her loved ones as well. Please send up a toast to our wife, our mom, our grandma, our friend, our Kate. We love you!
* * * * *
A Mass of Christian Burial will be held 11:00AM Thursday May 23, 2019 at Our Lady of Grace Catholic Church, with a visit for friends and family immediately following the service at the church.
A native of Lapeer, Michigan, Kate was the daughter of the late Rosemary and Tom Karlek. In addition to her parents, Kate also was preceded in death by her sister Melissa Wagner.
Survivors include her loving husband of forty-five years, Greg Fischer of the home; daughter Meagan Kopp and Joe of Greensboro; son Dominic Fischer and Gigi of Greensboro; granddaughter, Charlotte "Charlie"; sisters, Bev Karlek and Karen Branson and David all of Michigan; brothers, Mark Karlek and Kris of Mocksville, NC, and Jason Karlek and Charla of Michigan; and numerous nieces, nephews, extended family and friends.
In lieu of flowers, contributions may be made to United Network for Organ Sharing whose mission is Matching Organs, Saving Lives at https://unos.org/give/
Mass of Christian Burial
11:00 am
Thursday, May 23, 2019
Our Lady of Grace Catholic Church
2203 W. Market St.
Greensboro, North Carolina, United States