Has a Death Occurred? We Are Available 24/7
(336) 904-1053​
Live Chat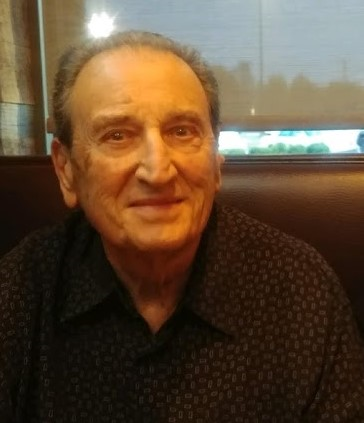 Obituary of Thomas George Grisolia
Thomas George Grisolia was born Gaetano Nicolo Mariano Grisolia during the Great Depression. The American Public School system anglicized his name which was a common practice during the 1920s so that children with "ethnic names" could assimilate easier into the American culture. Pops was born under humble circumstances and was in many regards, a man way ahead of his time. Formal education was unattainable due to financial constraints but that never stopped our Father; he was a brilliant man of his own doing. Pops read a book a week into his nineties, spoke at least two languages, was an avid gardener, followed sports (Yankees), politics, current events and adored classic movies.
Pops greatly enjoyed investing and handicapping race horses although, he was by far a much better investor. Thomas had an amazing world view for a man of his age; he believed in and enthusiastically supported human rights, marriage equality, women's rights and animal welfare. Pops pushed all of his children to succeed and understand the value of hard work, education and having a passion for life. Thomas, like his father Luigi (WWI veteran) served in the United States Army during the Allied Occupation in Germany; he was a second generation war veteran who had a great love for his country and inspired two of his children to enlist in the Navy and serve during war time.
Thomas was also way ahead of the "green movement" by decades. Our Depression baby was a dedicated closer of lights, windows and sneaky leaky energy sources. Nothing in our house ever went to waste and Thomas could squeeze a penny hard enough to make Abe Lincoln beg for mercy.
Like all good Italian boys, food was a sensual pleasure; he could remember his favorite dishes from decades ago and would describe them in great detail down to the sultry spiciness and play on herbs. For the record, Pops was not a food snob. He also loved hot dogs at Costco especially if his "favorite girl" was serving them so that he could indulge both his hobbies of food and flirting with the ladies. Cookout was a hidden passion as well. Pops thwarted all of our attempts at forcing him to eat healthier by sneaking through the drive through to indulge in hunky hand grenades of cholesterol, cheese and sodium. If you knew our Dad you probably know that he refused to stop driving even though he was in his nineties; if he could push the pedal "he was gonna go where he wanted" and it gave all of us fits.
Thomas was predeceased by his wife D'Nita whom he married later in life and was married to for 49.5 years. Well, Mum always said Pops would die of stupidity and true to form our Dad left this world from a bump on his head. Thomas REFUSED to use a walker, cane, safety handles or to ask for assistance because someone was too cool for school. The consensus of all of Thomas's children is that right now Mum is giving him side eye and saying "I told you so".
Pops feisty stubbornness which did not soften in his golden years, and his sheer determination created a colorful, wonderful and certainly memorable life for his family and friends. Our Father was surrounded to the very end by his family and although we will miss your sage advice and guidance we know that you are with Mum and as we all said through tears and laughter at your bedside; "Now you have him Mum!". We all miss you terribly Pops, Love all of us.


Share Your Memory of
Thomas
​